How is GPT 4 different from GPT 3.5?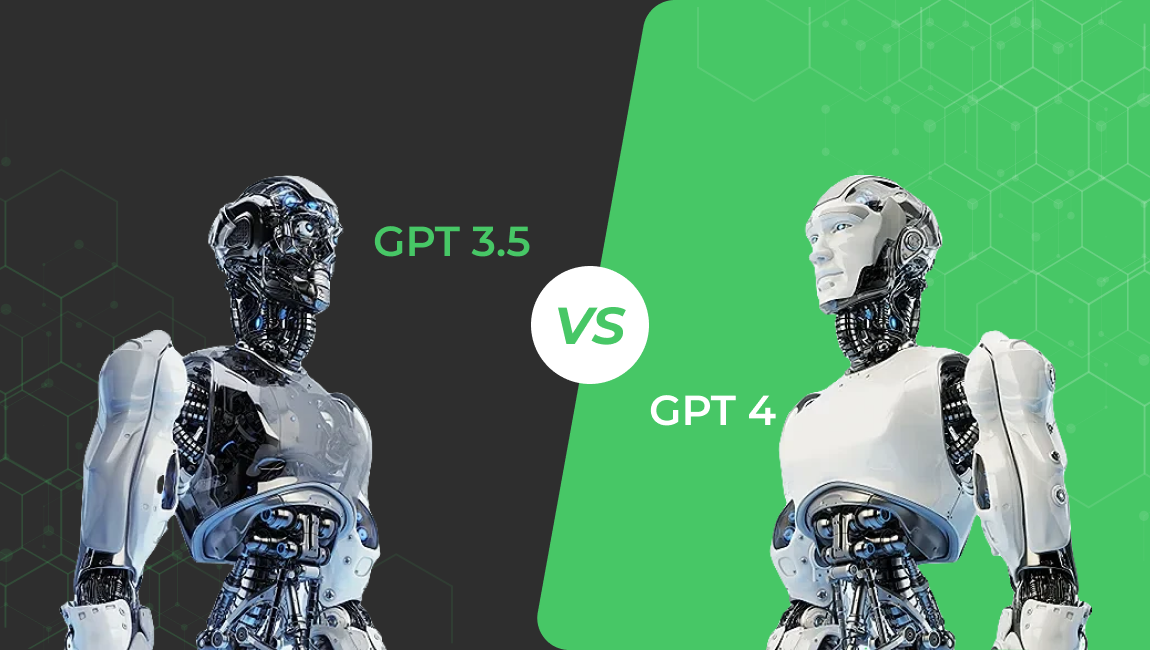 Evolution of GPT from 3.5 to 4
GPT 4 is so much more advanced and advanced than GPT 3.5. In terms of artificial intelligence (AI), GPT 4, the most recent development of ChatGPT, OpenAI's language model, has completely changed how we interact with machines.
With its ability to process text, images, and videos, ChatGPT is a very flexible tool for marketers, businesses, and individuals equally. With the improvement that has come, the model is better able to comprehend the context and recognize subtleties, producing more accurate and coherent nuances. Additionally, GPT 4 gives a maximum token limit of 32,000, which is a substantial increase from GPT-3.5's 4,000 tokens.
So what exactly is GPT 4?
OpenAI released GPT 4, a sizable multimodal model, on March 14, 2023. Along with the new capability to analyze images, GPT 4 also exhibits human level performance on various academic and professional benchmarks as per the OpenAI.
GPT 4 vs GPT 3.5 – What is new?
Some of the highly anticipated features that were supposed to be in GPT 4 are not present. The most recent version, however, vastly outperforms GPT 3.5 and its forerunners. But what distinguishes GPT 4 from GPT 3.5? We'll go over some of the most significant changes between both these models.
Inclusion of both visual and text inputs
GPT 4 is multi-modal that can take both text and visual inputs, in contrast to GPT 3.5, which only accepts text prompts. For the avoidance of doubt, when we refer to visual inputs, the picture can be of anything; it is not required to be an image of a typed prompt. GPT 4 can comprehend and explain almost any image, from a picture of a handwritten math problem to Reddit memes.
Addition of safety precautions
While the GPT 4 model is not without flaws, the safeguards it implements to guarantee safer answers are a welcome improvement over the GPT 3.5 model. OpenAI adopted a more moderation-based strategy for safety with GPT 3.5. In other words, some safety precautions were more of a last-minute addition. OpenAI kept track of what users did and what they requested, found flaws, and attempted to fix them as they happened.
Generates more accurate responses
One of GPT 3.5's shortcomings is its propensity to generate false information. This is known as an "AI hallucination" in AI jargon and can lead to mistrust of data produced by AI.
​​​​​Hallucinations are still an issue in GPT 4. However, when compared to the GPT 3.5 model, the new model is 19% to 29% less likely to experience hallucinations. However, this goes beyond the technical analysis. The GPT 4 model's responses on ChatGPT are notably more accurate and factual.
More innovative and creative
One of the GPT 4 model's most notable benefits over GPT 3.5 is its capacity to offer more innovative responses to prompts. Do not get us misunderstood; GPT 3.5 is very creative. You can use ChatGPT to do a wide range of activities that make use of the model. But in terms of creativity, it already beats many powerful language models.
GPT 4, however, sets an even higher standard. When attempting to solve simple problems, GPT 4's creative edge might not be immediately apparent; however, as the task becomes more challenging and requires a higher level of creativity, the difference in creativity between the two models becomes clear.
For instance, ChatGPT powered by the most recent GPT 4 model will produce better results if you ask both models to complete a creative job like writing a poem.
An upgrade from GPT 3.5
Without question, GPT 4 represents a significant improvement over its forerunners. The model represents an exciting new step in the quest for truly intelligent AI language models, even though it still has some of the drawbacks of GPT 3.5 and has undergone substantial improvements in a number of areas.
Retains details for a longer period
The context frame and context size are two less-discussed differences between GPT 4 and GPT 3.5. A context window is the amount and duration of data that a model can keep in "memory" during a chat exchange. The context size and window of GPT 4 are considerably better than those of its predecessor model.
Practically speaking, this means that GPT 4 can better retain the details of a conversation's context and its instructions for a longer period of time.
The tendency of the model to go off-subject or ignore instructions as you go along in a conversation is a problem with GPT 3.5. For instance, if you instructed the model to call you by your name, it might do so initially before failing to do so later on. The GPT 4 model still has this issue, but it is now less of a concern because of a better context window.
The maximum amount of words you can use in a ChatGPT prompt at once is another problem. Long texts are usually broken up into smaller chunks and summarized piecemeal using GPT 3.5. The GPT 4 model's increased context length allows you to paste complete PDF files at once and have the model summarized without having to break it up into smaller pieces.
Also, for more detail read our article on Google Bard vs ChatGPT