Google Web Stories- Guide to Install, Customize & Optimize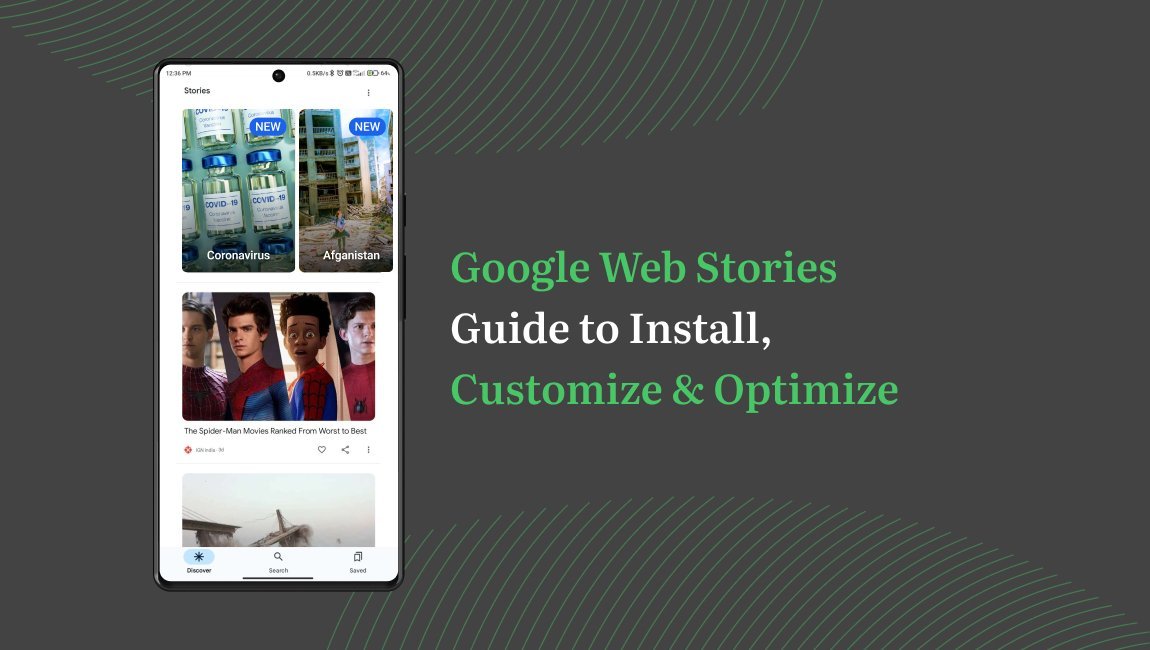 An Introduction to Google Web Story
Although Google is not considered a social media channel, it offers a unique feature called Google web stories, which is similar to Instagram's popular story formats. With interactive elements & tappable links, web stories offer a unique way to showcase your creativity & captivate your audience. Want to learn more about Google web story & how it can boost your website's traffic? Read our article involving the surprising advantages of web stories for building your brand.
But you may be wondering- How to make an effective Google Web story for 100% results? 
Discover step-by-step processes to install Web story plugins, customize your story template, optimize your story's performance & analyzing its impact in the following article. Get ready to make a profitable business with our comprehensive guide.
Step-by-Step Process: How to Setup Google Web Stories on WordPress?
How To Install Web Story Plugin?
Login to your WordPress administration panel
Navigate to 'Plugins' & click on 'Add New'  
Search for 'Google web stories' & install the plugin
Activate the plugin to get started
How to create a web story?
Find the ''Web stories'' menu in the dashboard
Click on ''Create New'' to start crafting your web story
Add engaging visuals, engaging text, & interactive elements
Customize the design & layout to match your brand
How to customize a story template to fit your brand?
Customizing a Web Story is a great way to infuse your brand's unique identity & style into your content. Below are some easy tips to make it more attractive & engaging for your audience:
Choose the right template– Select a template that matches the overall aesthetics & theme of your brand.
Customize colors & fonts– Use colors & fonts that reflect your brand's color scheme & typography to create a cohesive look & feel throughout your website.
Add your branding elements– Ensure that your web story incorporates your brand's logo, icons, & other visual elements that reinforce brand recognition.
Brand-specific Imagery– Add high-quality images to showcase your brand's product, services, or lifestyle. Make sure the images you choose are aligned with your brand's messaging & captivate your target audience, instead of the default images in the templates.
Personalize the text– Add catchy headlines & captions that convey your brand's voice & style.  
Add interactive elements– Elements such as quizzes, polls, & links within your Web Story. This will encourage them to engage with your content & explore it further.
Preview & fine-tune– Ensure all the elements of your customized web story are in place. If necessary adjust & refine the final result.
Easiest Way to add characters to your Web story?
Adding characters to your Google web story is a great way to make it more engaging & visually appealing. The easiest Ways to add the below characters to your Web story are:
Text– 1. Select page 2. Click 'Text' & enter your content 3. Customize Font size & color 4. Position & resize the text box 5. Save the changes.
Images– 1. Open the editor 2. Select page 3. Click 'Image' & choose your image 4. Adjust & Save
Videos– 1. Open the editor 2. Select page 3. Click 'Video' & upload your video file 4. Adjust your settings & Save.
Links– 1. Select the element or text you want to link 2. Click the link icon 3. Enter the URL or choose an existing page/post 4. Save your changes.
Animation- 1. Select an element on the canvas 2. Open 'Animations' in the design panel 3. Choose an animation 4. Set duration and delay.
Why previewing is important: Steps to publish & share a story
Before publishing it is essential to preview your web story to ensure its quality & optimize its impact. It allows you to put yourself in the shoes of your audience & assess the overall experience. Explore its visual consistency, check text accuracy, & test interactive elements to ensure they work as intended to captivate your viewers.   
Steps to Publish & Share Story:
Once you're satisfied with the preview, it's time to publish your web story. Look for the 'Publish' or 'Publish story' button, depending on the type of platform/ tool you're using. Click on it to make your web story live & visible to your audience.
Easy tips to optimize your story for SEO and performance?
It's not about attractive images & interesting content when it comes to creating & sharing web stories online. To effectively create an impression, optimize your story for SEO [Search Engine Optimization] & performance.
The following steps are essential to optimizing your Web Story:  
Build high-quality backlinks: Quality backlinks are the key to optimizing your search engine. They signal credibility & authority to search engines, boosting your visibility & rankings.
Enhance page load speed: Faster loading times create a seamless user experience, lower bounce rates, & improve search engine rankings.
Optimize Images: Images are crucial components of a compelling story that engage more readers & increase your search engine ranking. So, make sure your images are compressed without sacrificing quality.  
Use keyword-rich content: Conduct comprehensive keyword research & strategically sprinkle them in your story's title, headings & body. As a result, it will boost discoverability & conquer search engine results!
Optimize story meta-data: By creating an enticing title, a description that hooks readers, & tags that categorize your story effectively, will end up optimizing your story for SEO & performance.  
How to measure and analyze your story's performance?
For a successful & profitable business, analyzing your strategies & performance is crucial. It allows you to assess your company's strengths & weaknesses which helps you in making informed decisions. When it comes to measuring & analyzing the performance of your Google Web Story, there are various effective strategies to consider:
Seek user feedback through comments, ratings, or surveys to uncover strengths & weaknesses, refining your Web Story for better performance.  
Conduct A/B testing to experiment with different Web story variations, identifying the elements that resonate best with your audience & drive optimal results.
Stay attentive to social media engagement metrics including likes, shares, & comments to keep track of the story's popularity.  
Use web analytics tools like Google Analytics, you can measure your page views, engagement, & conversions & optimize your storytelling.
With the above steps & constant analysis of your story's performance, you can refine your storytelling approach & create compelling Google web stories.
Also Read our beginner guide for Create Immersive Google Web Story
Hence, by following the ultimate guide to install, customize, & optimize your web stories, you can unlock endless creative possibilities. Let your creativity shine through the magic of web stories.